The Chennai Rajdhani is an important train run by Northern Railway, connecting Chennai Central to Hazrat Nizamuddin. It was first introduced in 1993 and runs twice a week from Delhi and twice from Chennai. The Chennai Rajdhani is a fast alternative to the classic Grand Trunk Express and the modern superfast Tamil Nadu Express.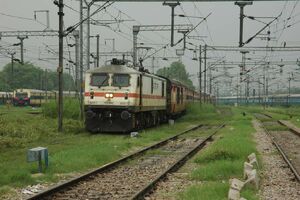 The Chennai Rajdhani covers a distance of 2176 kilometers in just over 28 hours. It is one of the fastest trains in India. It departs from Nizamuddin at 1600 and arrives in Chennai at 2010 the next day. From Chennai it departs at 0610 and arrives in Nizamuddin at 1015 the next day.
Running as train no. 2433/34, the train has a high priority at signals, on the indian railway network, and is fully air-conditioned. Passengers are provided with complimentary meals during the journey. Depending on the timings of the train, lunch, high tea, dinner, morning tea and breakfast are served.
Passengers travelling on the First AC class in this train are treated with luxury. They get their own private cabin, music stereos, scent emitters and a 4 course dinner.
The Chennai Rajdhani Express runs at an average speed of 78 kmph (excluding halts), and touches a top speed 130 kmph in the Delhi - Bhopal section of the route.
Destinations
Edit
The train runs on the Golden Quadrilateral route of Delhi - Chennai, and is one of the most prestigious trains of this route. The train stops at the following stations :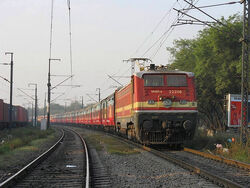 External links
Edit
Ad blocker interference detected!
Wikia is a free-to-use site that makes money from advertising. We have a modified experience for viewers using ad blockers

Wikia is not accessible if you've made further modifications. Remove the custom ad blocker rule(s) and the page will load as expected.