Chittranjan Locomotive Works is an electric loco manufacturer based in India, one of the largest manufacturers in the world.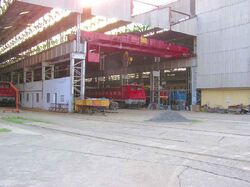 Overview
Edit
Founded in 1947, the company is named after the Indian freedom - fighter Chittaranjan Das. The manufacturing unit was established at a place close to the Mihijam, in the state of West Bengal. The 18.34 sq km township, which included a factory, 191 km of roadways, 43 schools, 9,131 staff quarters, 8 clinics (including a 200 bed hospital) and 7 markets, was built at a cost of Rs 140 million and had a population of over 80,000. The factory commenced the production of steam locos on the 26 January 1950 (the date when India formally declared itself a Republic), in collaboration with the North British Locomotive Company. On November 1, 1950 Indian President Dr. Rajendra Prasad formally dedicated the first steam rail - engine produced by CLW (a WG class locomotive bearing the registration number 8401) to the freedom fighter Deshbandhu Chittranjan Das. The name of the nearby railway station Mihijam was also changed to Chittaranjan. Post - 1968 the factory began to manufacture diesel locos. The production of steam and diesel locomotives were discontinued in 1973 and 1994 respectively. The company has since been manufacturing only electric locos. It is now the only government under electric loco producing factory in India. The township under CLW i.e. Chittaranjan is a very much protected, calm and peaceful area. It is bordered by high boundaries and 3 main gates, just like any engineering college, and guarded by Railway Protection Force (RPF), Railway Protection Special Force (RPSF) and also West Bengal police.
See also
Edit
External links
Edit
Ad blocker interference detected!
Wikia is a free-to-use site that makes money from advertising. We have a modified experience for viewers using ad blockers

Wikia is not accessible if you've made further modifications. Remove the custom ad blocker rule(s) and the page will load as expected.