Hazrat Nizamuddin is a one of the three main railway stations in Delhi, India. Hazrat Nizamuddin railway station connects all the major cities and is being developed to ease congestion on New Delhi railway station. Hazrat Nizamuddin is served by Northern Railway. Delhi's two important arteries the Ring Road and Mathura Road run nearby. The Sarai Kale Khan Inter State Bus Terminal (ISBT) is close to the station, with links to neighbouring towns.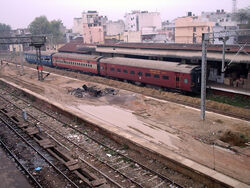 Ad blocker interference detected!
Wikia is a free-to-use site that makes money from advertising. We have a modified experience for viewers using ad blockers

Wikia is not accessible if you've made further modifications. Remove the custom ad blocker rule(s) and the page will load as expected.