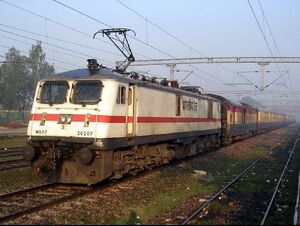 Kalka Shatabdi Express is a Northern Railway train that connects the Indian capital New Delhi to Kalka, which has a narrow gauge line upto Shimla, the capital of Himachal Pradesh. There are two Shatabdis each from New Delhi and Kalka daily.
Both Train No. 2005/06 and 2011/12 run via Panipat and Ambala Cantt. But Train No. 2011/12 has more stoppages than its twin 2005/06.
Destinations
Edit
The train connects the national capital Delhi to Chandigarh and the hill station of Shimla, both being famous tourist spots of northern India.
The train 2005/06 stops at following stations: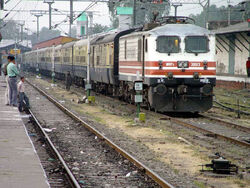 The train 2011/12 stops at following stations:
External Links
Edit
Ad blocker interference detected!
Wikia is a free-to-use site that makes money from advertising. We have a modified experience for viewers using ad blockers

Wikia is not accessible if you've made further modifications. Remove the custom ad blocker rule(s) and the page will load as expected.