Ad blocker interference detected!
Wikia is a free-to-use site that makes money from advertising. We have a modified experience for viewers using ad blockers

Wikia is not accessible if you've made further modifications. Remove the custom ad blocker rule(s) and the page will load as expected.
Sealdah Rajdhani is a Rajdhani run by Eastern Railway, connecting Sealdah of Kolkata to New Delhi. It runs daily from Delhi and Sealdah both. Sealdah Rajdhani is a fast alternative to other trains between Delhi and Sealdah.
Sealdah Rajdhani covers the distance of 1439 km in just 17 hrs 55 min. It is one of the fastest trains in India. It departs from New Delhi at 1630 and arrives Sealdah at 1015 the next day. From Sealdah it departs at 1640 and arrives New Delhi at 1035 the next day.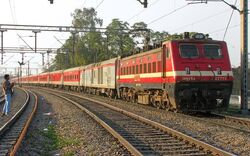 Sealdah Rajdhani Express runs at an average speed of 85 kmph (excluding halts), and touches a top speed 130 kmph . It gets a fierce competition from its Kolkatan counterpart Howrah Rajdhani.
Destinations
Edit
The train runs on the Golden Quadrilateral route of Delhi - Howrah, and is one of the most prestigious trains of this route. The train stops at the following stations :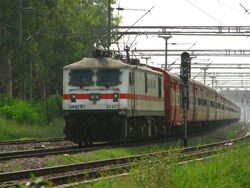 External Links
Edit