Trains in India can be braodly categorised into five groups :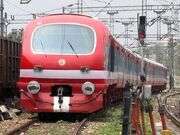 Indian Railways operates about 9,000 passenger trains and transports 18 million passengers daily across twenty-eight states and one union territory, Puducherry (formerly Pondicherry). Sikkim, Arunachal Pradesh, and Meghalaya are the only states not connected by rail. The passenger division is the most preferred form of long distance transport in most of the country. A standard passenger train consists of eighteen coaches, but some popular trains can have up to 24 coaches. Coaches are designed to accommodate anywhere from 18 to 81 passengers, but during the holiday seasons or when on busy routes, more passengers may travel in a coach. Most regular trains have coaches connected through vestibules. However, 'unreserved coaches' are not connected with the rest of the train via any vestibule.
Ad blocker interference detected!
Wikia is a free-to-use site that makes money from advertising. We have a modified experience for viewers using ad blockers

Wikia is not accessible if you've made further modifications. Remove the custom ad blocker rule(s) and the page will load as expected.