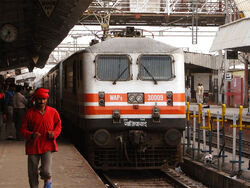 WAP5 is the name of a class of Electric Locos used by Indian Railways. The first 10 locos were imported from ABB (now Bombardier) in Switzerland in 1995. They are supposed to be a variant of the Lok 2000. Chittaranjan Locomotive Works (CLW) started production in 2000. It was designed to haul 26 coach passenger trains at 160 kmph. It is the first 3 phase loco in India. Other notable features of this loco are the provision of taps from the main loco transformers for hotel load, pantry loads, flexible gear coupling, wheel-mounted disc brakes, and a potential for speed enhancement to 200 km/h. 88 tonnes weight. Braking systems include regenerative braking (160kN), loco disc brakes, automatic train air brakes, and a charged spring parking brake. MU operation possible with a maximum of two locos.
The WAP5 series of locomotives haul the premier superfast trains on Indian Railways like the Mumbai Rajdhani, Bhopal Shatabdi, Lucknow Shatabdi, Prayagraj Express, etc. The Bhopal Shatabdi hauled by a WAP5 travels at 150 kmph in the New Delhi - Agra Cantt section.
Technical specification
Edit
Specifications are as follows :
Manufacturers
ABB / Chittaranjan Locomotive Works
Continuous HP
4 MW (4000 kW, 5450 hp)
Traction Motors
ABB's 6FXA 7059 3-phase squirrel cage induction motors (1150kW, 2180V, 370/450A, *1583/3147 rpm) Weight 2050 kg. Forced-air ventilation, fully suspended. Torque 6930/10000 Nm. 96% *efficiency.
Gear Ratio
67:35:17. (3-stage gears)
Transformer
ABB's LOT-7500. 7475kVA primary, 4x1450kVA secondary.
Power Drive
Power converter from ABB, type UW-2423-2810 with SG 3000G X H24 GTO thyristors (D *921S45 T diodes), 14 thyristors per unit (two units). Line converter rated at 2 x 1269 V @ 50 Hz, *with DC link voltage of 2180 V. Drive converter rated at 2180 V phase to phase, 953 A output current *per phase, motor frequency from 0 to 160 Hz.
Axle load
19.5 t
Bogies
Bo-Bo Henschel Flexifloat; bogie centre distance 10200 mm; bogie wheel base 2800 mm

Unsprung mass per axle: 2.69t

Pantographs
Two Stone India (Kolkata) AM-92, Schunk for the imported locomotives.
Wheel diameter
1092 mm new, 1016 mm worn
Wheel base
13000 mm
Length over buffers
18162 mm
Length over headstocks
19280 mm
Body width
3142 mm
Cab length
2434 mm
Pantograph locked down height
5437 mm
External links
Edit
Ad blocker interference detected!
Wikia is a free-to-use site that makes money from advertising. We have a modified experience for viewers using ad blockers

Wikia is not accessible if you've made further modifications. Remove the custom ad blocker rule(s) and the page will load as expected.